Splendours of the Commonwealth celebrated the best of London's film festivals at the May Fair Hotel on Monday 28 September 2015
The Splendours of the Commonwealth fundraising event was once again hosted at the May Fair Hotel, the official host hotel for London's film festivals, on Monday 28th September 2015. This year's dramatic event took place during the Autumn season of film festivals in London and headlined film, music and dance from countries around the Commonwealth.
This year's glittering event was one of the best ever. It was thought provoking and unforgettable, and included a fund-raising prize draw and sale of artworks created by CGEF girls and their friends. Guests were welcomed by CGEF Trustees and entertained by musicians ACD-arts Ltd from Uganda during a drinks reception before being led down to the auditorium where Garba365 dancers performed traditional North Indian folk dancing with a twist before the film features.

The evening's centrepiece was a 30 minute screening of a film featuring a CGEF sponsored girl, "Nancy A One Girl Revolution". Nancy Tomee, who has already been internationally recognised for her work by the UN and the Bianca Jagger Human Rights Foundation, has been successfully campaigning against Female Genital Mutilation (FGM) in the Pokot Tribal area of Kenya. Before the feature film, Sara Nason, the film's director-producer, read out a message from Nancy, written specially for the CGEF guests present.

"Dear Lovely People of the Commonwealth Countries, I am Nancy Tomee, a Pokot Girl who was saved from the jaws of this dangerous beast called Female Genital Mutilation. Now that I am saved I am spreading the word for the female child to be educated both within my Pokot County and the entire country of Kenya at large. Therefore I pray for your support in whichever way you can.
We will be having a march in December which is concerned with the educaton of the female child - to which you are all welcome. With your support dear lovely people of the commonwealth I believe my vision of eradicating FGM and transforming the girl child will be successful. I welcome you to Kenya (KARIBU SANA) God bless you all. NANCY TOMEE."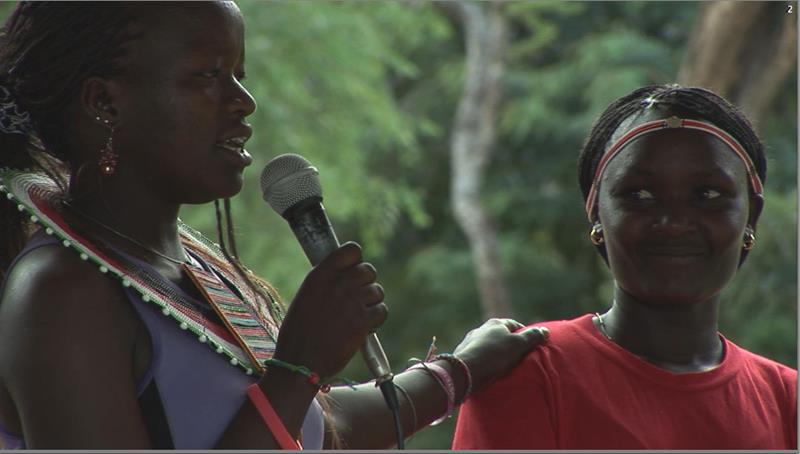 The film was followed by an expert panel discussion which was chaired by Bianca Jagger and included Sara Nason, film maker; Professor Sara Chandler, Vice President of the Federation of European Bar Associations (FBE) and Dr Joanna Nurse, Head of Health and Education Commonwealth Secretariat.
Jay Kumar and DanceAsia kicked off the party time with Bollywood dancing, inviting guests present to join them in various dances.
As in previous years, the event was organised by trustees, supporting partners, friends and sponsors of the Commonwealth Girls Education Fund (formerly the CCLEF). Guests present included members of the Diplomatic community of the Commonwealth, senior influential women and men representing UK business, education and global women's campaigns and CGEF sponsors and supporters.
Judith Fisher, event organiser and CGEF Hon. Treasurer said, "This is the third year the CGEF has organised the fabulous Splendours of the Commonwealth charity event and it was the best ever. We were fortunate to have had so much assistance from our sponsors, partners and supporters. We are hugely grateful to the May Fair Hotel owners for their generous sponsorship and support, to Melt Chocolates for their sponsorship and the invaluable help of the SOTC 2015 organising team. Such assistance has contributed immensely to make this happen and help this charity continue educating girls in Commonwealth Countries."
She continued, "We would like to thank Sara Nason, Bianca Jagger, our presenter Lola Royle and our expert panel speakers, our organising team including Market Accents, Cypher Design and Shelley Stock Hutter and various supporting partners including Davy's Wine Merchants and Wine Bars, The Sourcing Team Ltd, Usborne Publishing and Sunita Mukhi, our entertainers ACD-arts Ltd, Garba365, Jay Kumar and DanceAsia, BFI, the Commonwealth Secretariat, Ghana High Commission, The Diplomat, Share Radio and Wessex Design Associates Ltd. All monies raised on the evening went directly to sponsor girls' secondary education in parts of the Commonwealth where, without financial assistance, they would not be able to afford to go to school.
An album of pictures may be viewed here: