Events and Fundraisers
Find out about all of our Events and Fundraising initiatives here.
2020 10K Run for Girls' Education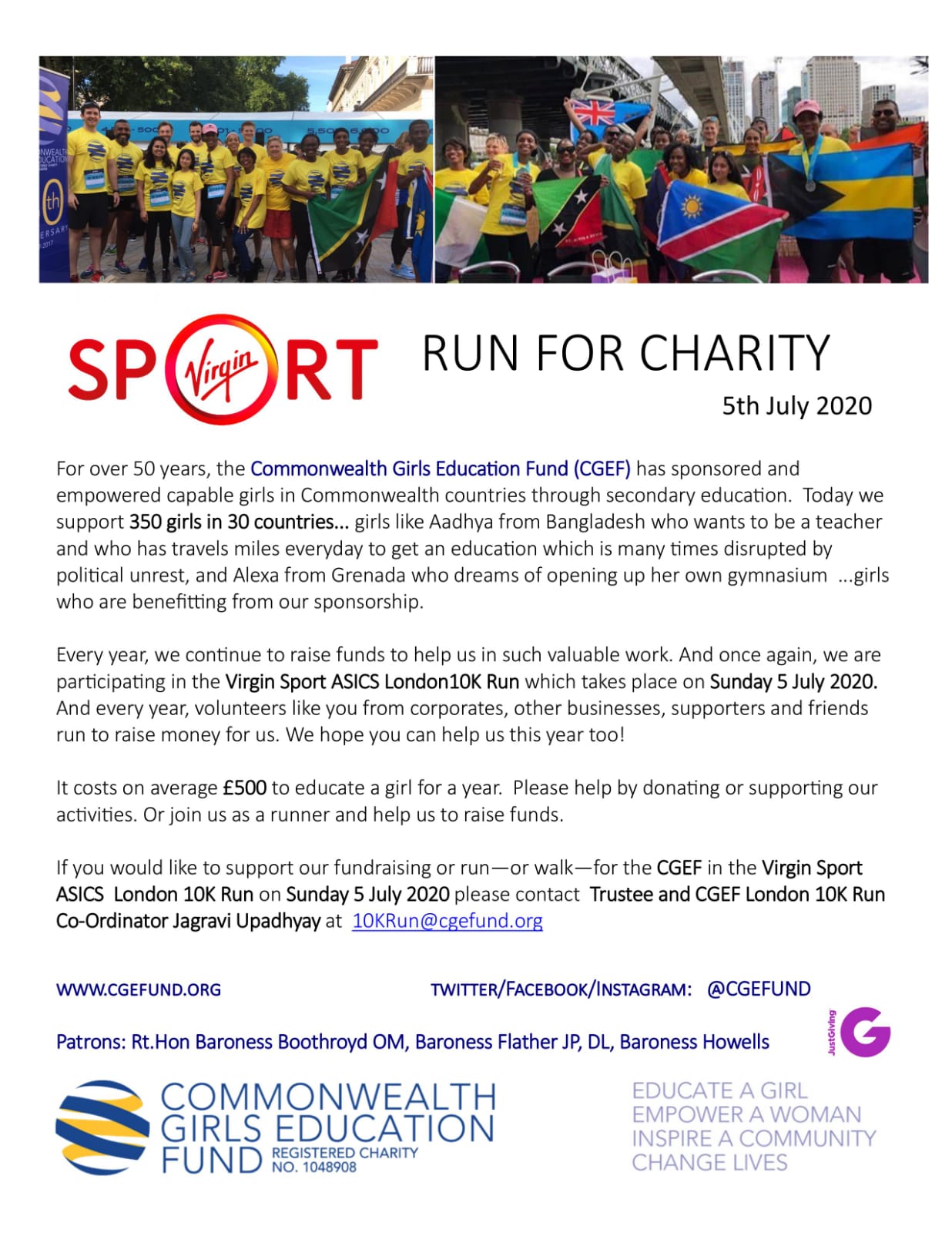 Come and join the CGEF team for the Virgin Sport London 10K Run on Sunday 5th July and make a difference to the life of a Commonwealth Girl.
---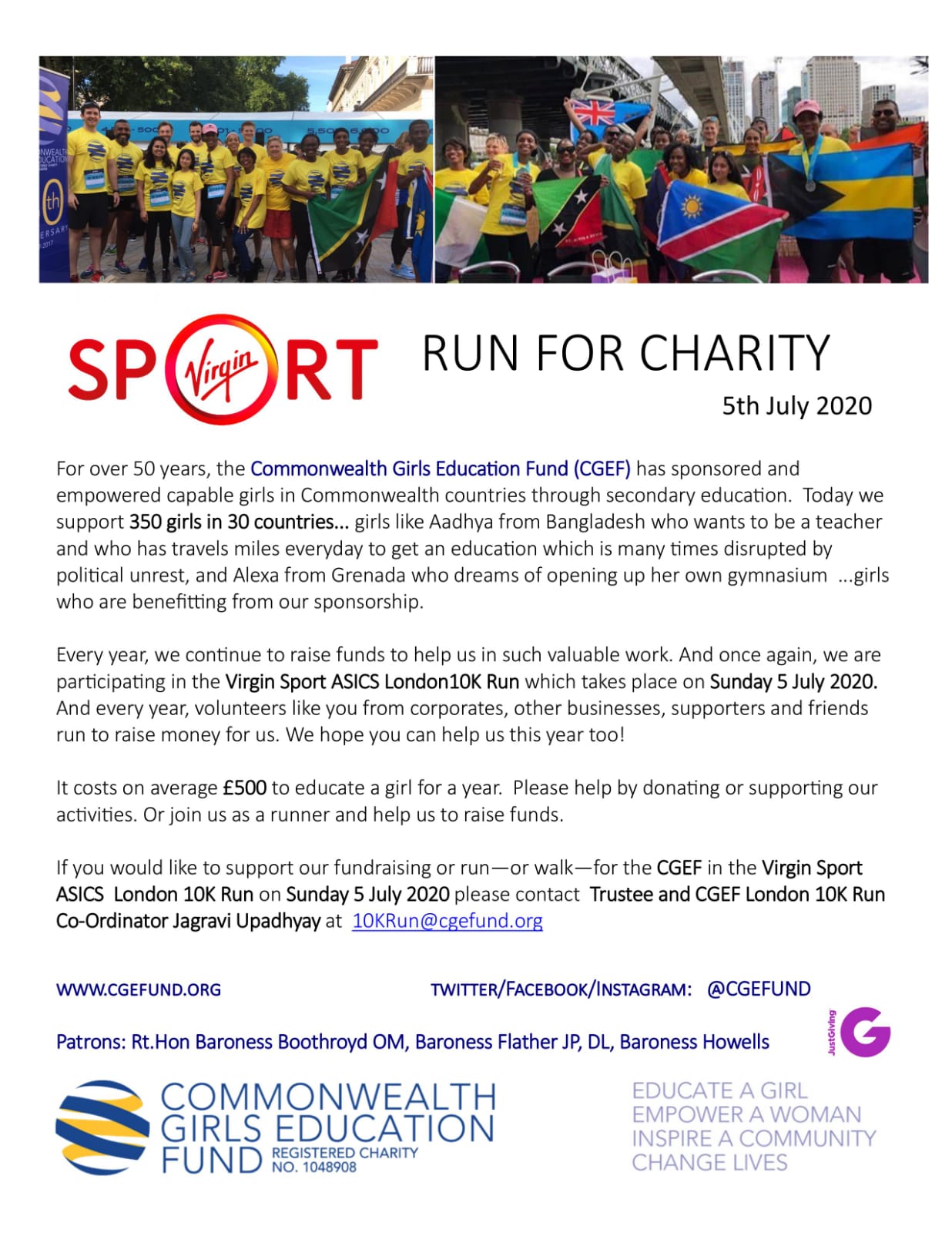 2019 CCL Commonwealth Fair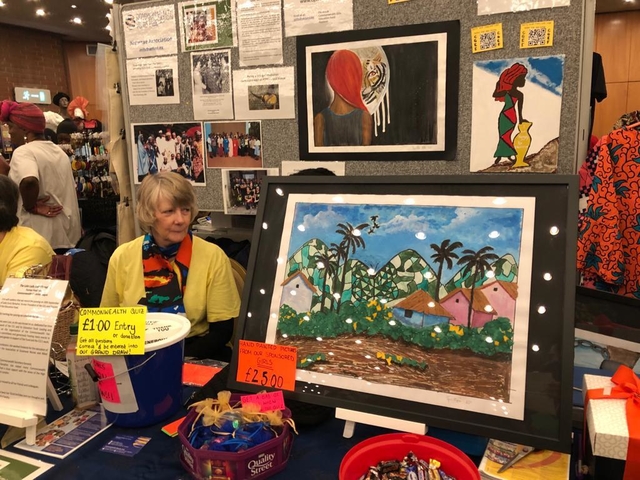 A huge thank you to the Bangladesh High Commission and CCL Fair committee for hosting another amazing event on Saturday 9th November 2019.
Alice Hemming Lunch 2019
Thank you to our Alumnae Association Coordinator, Jenny, and her team of amazing ladies for staging another successful Alice Hemming Lunch, in honour of what would have been our founder's birthday.
10K Run 2019 Update
A huge thank you to everyone who ran and supported the CGEF at the Virgin Sport London 10K Run Presented by ASICS on Sunday 21st July 2019.
---
Our team of almost 40 runners looked amazing in their yellow CGEF t-shirts as they passed many of the iconic sites in Central London. As always, the crowds were out in force to support the thousands of participants and the many worthy causes they were representing.
There was a fantastic atmosphere on the day, with plenty of music and excellent weather. It was especially nice to see so many friends, family and colleagues come out to support our team of runners.
Thank you also to everyone who donated to our team. Donations are still rolling in so we will be announcing the grand total very soon.
It's never too early to consider joining the 2020 CGEF 10k run team! You can run as an individual or buddy up with friends, family or colleagues, so if you think you may be interested in running (or walking) the route next July, please drop us an email at
Go to our facebook page to see images of our runners on the day.
Annual Valentine's Gala Dinner 2019
Tickets are on sale now for the annual Valentine's Gala Dinner, which will be held on Thursday 14th February 2019 at the Royal Over-Seas League in London.
2018 CCL Commonwealth Fair
The trustees, team, volunteers, supporters and sponsored girls of the CGEF thank the Commonwealth Countries League (CCL), in particular the Fair planning team, and our esteemed host, H.E. Perla Perdomo and her team at the Belize High Commission for their exemplary work in staging this year's fair on Saturday 10th November.