Splendours of the Commonwealth 2023 at Marlborough House, London
In collaboration with the ComSec Youth Team, we are pleased to announce that we are hosting a spectacular fundraising event this autumn, "Splendours of the Commonwealth".

Our reception is a precursor to the Youth Ministers Summit and will take place at the iconic Marlborough House on Friday 8th September, from 6:30pm - 9pm.
Enjoy an evening of fashion, live performances, a silent auction plus canapes and wine.With Pooja, an Indian Folk Dancer; Solo Flair Fashions and Models; Dulcis Ensemble; Hali. H Fashion; original poetry by Jannat Rashad, a young South Asian poet; and an auction with fabulous prizes. MC'd by the lovely ALI-MAI, Finalist, Miss Caribbean UK 2023.

Limited tickets are available, so book early to avoid disappointment. Book here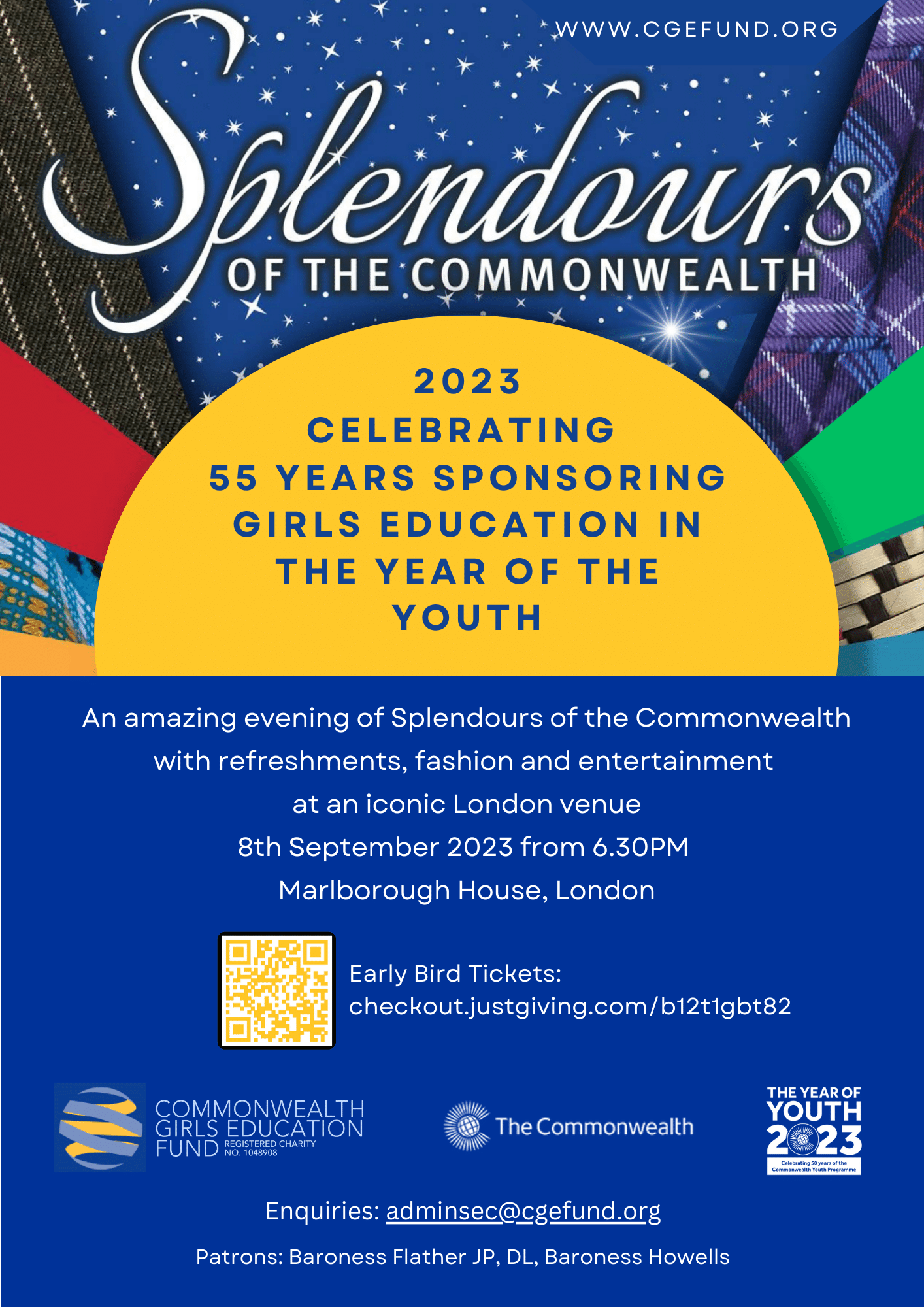 Past Splendours
---
On Tuesday 10th April 2018, the CGEF hosted a splendid evening of pan-Commonwealth music and entertainment to celebrate the 50th anniversary of the charity and the Commonwealth Summit in London.Taking place in the stunning Crystal Room, the evening included a sparkling drinks reception with performances from the Commonwealth Youth Orchestra, students from London's world famous Pineapple Performing Arts School, the Ngāti Rānana London Maori Club, NACH365, the award winning Sunshine & Nadiva and Sarah Ikumu - ITV's 2017 Britain's Got Talent golden buzzer act.
The evening also included live and silent auctions, expertly lead by antiques expert and TV presenter, Jonty Hearnden. Readings of stories from our sponsored girls were also read out by BBC Radio 4 Broadcaster, Sue MacGregor.
---
Check our Facebook page for more images of the event here.
We are not a funded charity, so generosity is what enables us to continue sponsoring girls, and we are delighted that on the night our guests managed to raise over £19,000, which will go towards the education of girls across the Commonwealth.
This is about 20-25% of our average annual spend on sponsorships, so it was worth all of our efforts and we would like to say an enormous thank you to all the performers, participants, guests and organising team for helping us celebrate our 50th anniversary in such splendid fashion.
For more information about our Splendours of the Commonwealth event, please visit the event website here.