In 2015, the Commonwealth has chosen The Young Commonwealth as its theme and has published materials for children, young people, communities and schools to mark this theme.
"The Commonwealth theme for 2015 recognises the capacity, contribution and potential of young people, who play a vital role at the heart of sustainable development and democracy," said Commonwealth Secretary-General Kamalesh Sharma. "The Commonwealth is also a family of dynamic countries at the forefront of innovation, growth and contributing global value"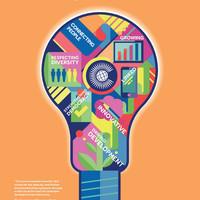 An illustrated poster,Commonwealth Day 2015 poster, children's guidebook and digital graphics have been released by the Commonwealth Secretariat to help children, young people, schools and communities celebrate 'A Young Commonwealth', the Commonwealth theme for 2015. The poster design, created by Studio Muti, an illustration company based in Cape Town, South Africa, features a colourful light bulb motif. The light bulb signifies the energy and ideas that young people, Commonwealth organisations and countries provide to the world. A children's guidebook, entitled 'Our Commonwealth', introduces children to the rich diversity, values and history of the 53-nation community. It was designed by Anthony Godber and illustrated by Mark Ruffle and includes fun facts and activities for use by teachers and parents. The poster and children's guidebook are available to order, free of charge, by contacting Catherine Price at c.price(at)commonwealth.int. Other materials, such as stickers, maps and information booklets are also available on request.
The Queen's Commonwealth Essay Competition 2015

Run by the Royal Commonwealth Society since 1883, the Commonwealth Essay Competition is the world's largest schools' international writing competition and is open to all young people aged 18 and under. In 2015, the competition was renamed 'The Queen's Commonwealth Essay Competition', in honour of Her Majesty Queen Elizabeth II's role as both Head of the Commonwealth and Patron of the Royal Commonwealth Society. The competition gives young people, from diverse backgrounds, a platform to express their views and concerns about the world and important issues like gender inequality, child labour and universal education. Past winners include authors, journalists, politicians and academics, including Lee Hsien Loong, the Prime Minister of Singapore, and writer Elspeth Huxley. The 2015 competition invites young people to submit essays relating to this year's theme, 'A Young Commonwealth'. The closing date for entries is May 1st, 2015. The Queen's Essay Competition 2015 is run by the Royal Commonwealth Society in partnership with Cambridge University Press.
Share your ideas and stories on Twitter using the hashtag #YoungCommonwealth
Our mission can be summed up in a few words; 'Educate a Girl', 'Empower a Woman' and 'Inspire a Community'.
Community Leaders
Hold an event themed around 'A Young Commonwealth' or in celebration of Commonwealth diversity and values.
Schools and Teachers
Organise a school lesson about Commonwealth values such as democracy, human rights, tolerance and respect, freedom of expression or sustainable development.