General
General news from the CGEF
Embrace Equity - International Women's Day 2023
'Embrace Equity' is the theme for International Women's' Day 2023. We at the Commonwealth Girls Education Fund believe that this message, is echoed in our vision and mission.
By providing sponsorship opportunities for girls only, the CGEF has actively promoted the message of equity for girls since 1967. Our work assists bright girls who would not otherwise be able to gain a secondary education. Our work to empower and inspire young women across the Commonwealth into secondary education, enables them to study more confidently, and pursue their dreams of becoming agents of positive change in their communities.
Supported by your generous donations and gifts, the vast majority of our awardee's complete secondary school with higher level certificates. This is a huge achievement for most, while others go on to university and attain tertiary qualifications. This success is a source of great pride to the girls, their families, and their communities. It is also an indication of the untapped potential that is lost when bright and talented girls are denied access to an education.
The last three years has further highlighted the differential outcomes experienced by girls as compared to boys when accessing education. UNICEF data from 2022 suggests that despite the gains made in the last 25 years, girls were still at a disadvantage in at least 30 different countries, where boys were more likely to stay on in education as children transitioned from primary to lower secondary school. Many girls finish primary school with very high scores enabling them to enter secondary school. However, they are prevented from progressing further due to financial constraints. With your assistance, the CGEF will continue to promote greater equity for Commonwealth girls.
Donate today and help us provide bright girls with an opportunity to pursue their vision of becoming change makers of the future.
Splendours of the Commonwealth 2023
In collaboration with the ComSec Youth Team, we are pleased to announce that we are hosting a spectacular fundraising event this autumn, "Splendours of the Commonwealth".

Our reception is a precursor to the Youth Ministers Summit and will take place at the iconic Marlborough House on Friday 8th September, from 6:30pm - 9pm.
Enjoy an evening of fashion, live performances, a silent auction plus canapes and wine. With Pooja, an Indian Folk Dancer; Solo Flair Fashions and Models; Dulcis Ensemble; Hali. H Fashion; original poetry by Jannat Rashad, a young South Asian poet; and an auction with fabulous prizes.
Join us, members of the diplomatic community, friends and guests of the Commonwealth Girls Education Fund and the Commonwealth Youth Secretariat for a spectacular fund-raising evening.
Limited tickets are available, so book early to avoid disappointment. BOOK NOW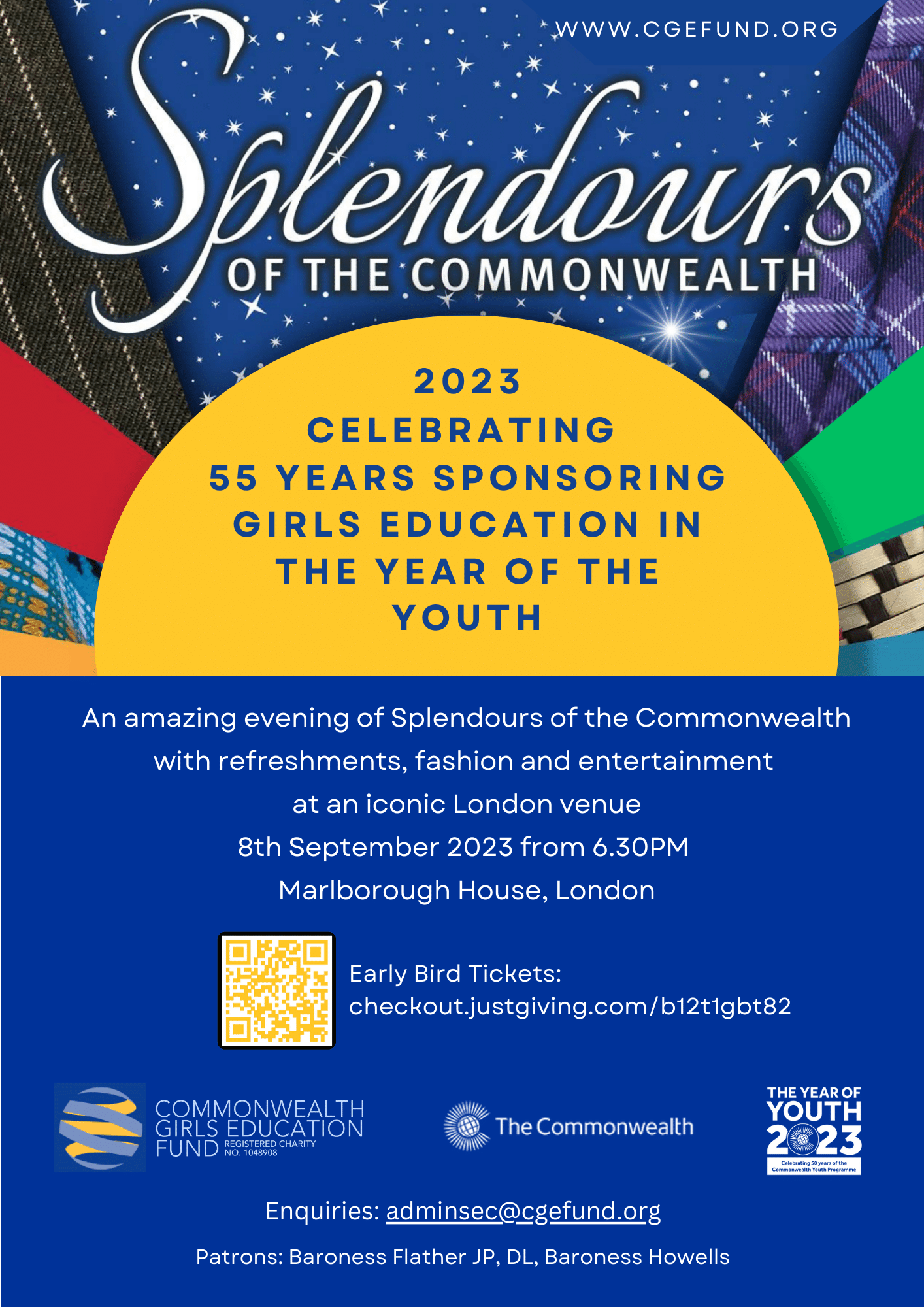 A tribute to Louisa Service, OBE, CGEF Trustee
A tribute to Louisa Service, OBE 1931—2021
Louisa Service, who died on 22nd September, was the longest-standing trustee of the Commonwealth Girls' Education Fund and a much-loved friend and inspiration to all of us who worked with her. Throughout her life, Louisa was passionate about helping others, especially young women.
As the daughter of the CGEF's founder Alice Hemming, Louisa grew up understanding of the importance of feminism and education from a young age. She was proud to continue her mother's work for the Commonwealth Countries League and the CGEF. It meant a great deal to her that she was instrumental in giving thousands of girls a chance they would not otherwise have had. By educating young women, she knew that she was helping them to believe in themselves.
Louisa was re-elected to the Board of the CGEF (then the CCLEF) in October 2014, but she had been involved with the charity since its inception. She always helped with the annual Commonwealth Fair to raise funds for the CGEF, which for many years used to take place at Alice's home in Primrose Hill. Louisa was the inspiration behind the Friends of the CGEF, and became the charity's first Friend. She often hosted our away days at her home. In the last months of her life, when she was no longer able to continue as a Trustee, she was delighted to accept the invitation to become a Patron of the charity.
Louisa Anne Hemming was born in Paris on 13th December 1931. Her father Harold was a merchant banker and was soon posted to Berlin. After Hitler came to power the family settled in Primrose Hill in London. But in 1940, to escape the Blitz, Louisa and her young brother John were sent to live with their grandparents in Canada. Louisa became well used to travelling, and was extremely self-reliant, much like her mother. During the war, Alice worked as a journalist promoting the British war effort and Harold lectured on the latest artillery techniques, travelling from base to base around North America with the family in tow.
When things settled down after the war they returned to Primrose Hill, and despite Louisa's interrupted education, she gained a place at St Hilda's College, Oxford, where she read PPE. After graduation in 1959, she married Alistair Service, and both joined their own family publishing companies. Their son Nick was born in 1961 and a daughter Sophie two years later. The 1960s was a time of emerging ideas about the role of women and human rights, something Louisa cared about very deeply. Louisa campaigned on law reform, particularly in relation to abortion rights and divorce. She was hugely involved in the feminist and women's movements in the 1960s and 1970s, and Nick and Sophie remember spending a fair amount of their childhoods on marches.
One of her greatest achievements was her work to reform the juvenile and family courts. Her career as a Justice of the Peace spanned over three decades and large parts of London, from Hackney to Hammersmith and beyond. As a very senior magistrate and Chairman of the Executive Committee she worked to reform the family and juvenile courts to make the process less punitive and more humane by concentrating on the welfare of the family, particularly the best interests of the children.
Music was another great passion of Louisa's, and so it was natural for her to want to extend opportunities for young people who wouldn't normally have had access to classical music. She became actively involved in Youth & Music and the Elsa Mayer Lismann Opera workshops. Louisa was publicly honoured for this, and her juvenile court work. When she was awarded an OBE in 1997 the citation was 'for services to music and youth'. Louisa was also greatly involved with other music-related charities from the Chairman's Committee of the Friends of Covent Garden to heading up the fundraising for the new Jacqueline du Pré Music Building at her university college, St Hilda's.
Louisa was also joint Chairman of the Hemming Group from 1976 to 2012, and she worked voluntarily for many more organisations. In addition to her work with the CCL and CGEF, she was director of St Hilda's, Honorary Secretary of the Women's India Association, member of the Council of the Friends of Covent Garden, and judge for the Historical Dagger Awards of the Crime Writers' Association, to name but a few. In everything she did, her concern was for people to be given the opportunity to thrive, but she was very aware of how difficult this is - particularly for young women. She had her birth, connections and education that enabled her to do what she did. But she was all too aware that others were not so privileged.
Louisa loved travelling and meeting new people. It never occurred to her not to take an interest in everyone she met, and people were drawn into her orbit. She became an adopted mother figure to many different people through her life. Louisa will be greatly missed by all of us at the CGEF, by her family and by her many friends in the UK, the Commonwealth and around the world.
CGEF 5K LONDON RUN 2022
Help send a girl to school - Join our 55th Anniversary 5k London Run on Saturday 17th September 2022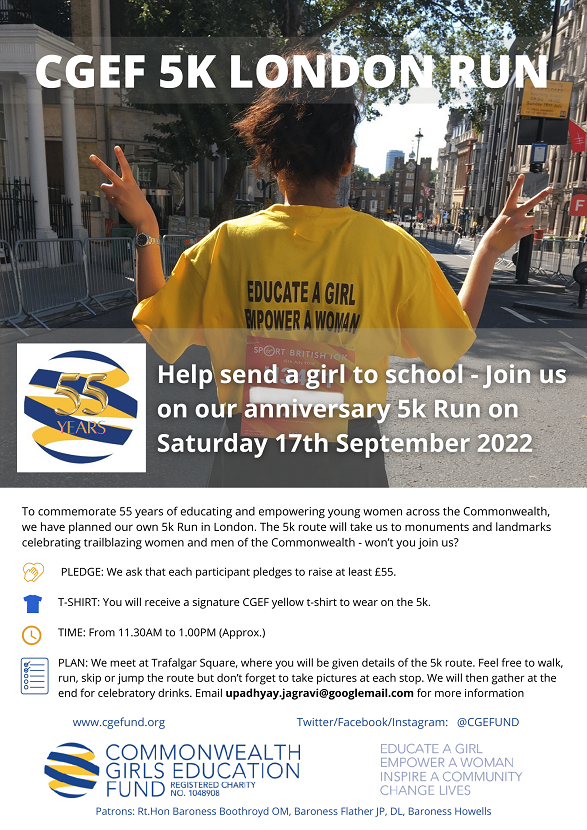 This year is our charity's 55th anniversary! To commemorate 55 years of educating and empowering young women across the Commonwealth, we have planned our own 5K Run in London. The route will take us to monuments and landmarks celebrating trailblazing women and men of the Commonwealth - won't you join us?
🗓 DATE: Saturday 17th September 2022

TIME: 11.30AM to 1.00PM (Approximately).
💰 PLEDGE: We ask that each participant pledges to raise at least £55 (but the more the merrier, of course).
👕 T-SHIRT: You will receive our signature CGEF yellow t-shirt to wear on the 5k Run.
🏃 PLAN: We meet at Trafalgar Square, where you will be given details of the 5k route.
It will be fun and informal, just a normal day in London but an opportunity to get your steps in, see some sights AND help send girls to school! Feel free to walk, run, skip or jump the route but don't forget to take pictures at each stop.
We will meet again at the end for celebratory drinks.
So, who's in?
To join, simply drop a quick line back saying "I'M IN". We look forward to hearing from you.

CGEF 10K 2021
Help send a girl to school - Join our 10k team on Sunday 15th August 2021
Here's how to get involved:
Pledge to raise £50 for the Commonwealth Girls Education Fund (CGEF).
Email CGEF Trustee and 10k Coordinator Jagravi Upadhyay, at

with a short message saying "I would like to join the 10k team".
You will receive a follow up email and we will then post a CGEF t-shirt for you to wear on your 10k.
Head out for a 10k walk, jog or run in your local area on Sunday 15th August.
Take lots of photos, tag us on social media, or just send them in…we'd love to see them!
It's really that simple - only £50 and 13,000 steps could help us make an invaluable difference to the lives of bright but disadvantaged girls across the Commonwealth.
So let's get moving. Email for more information.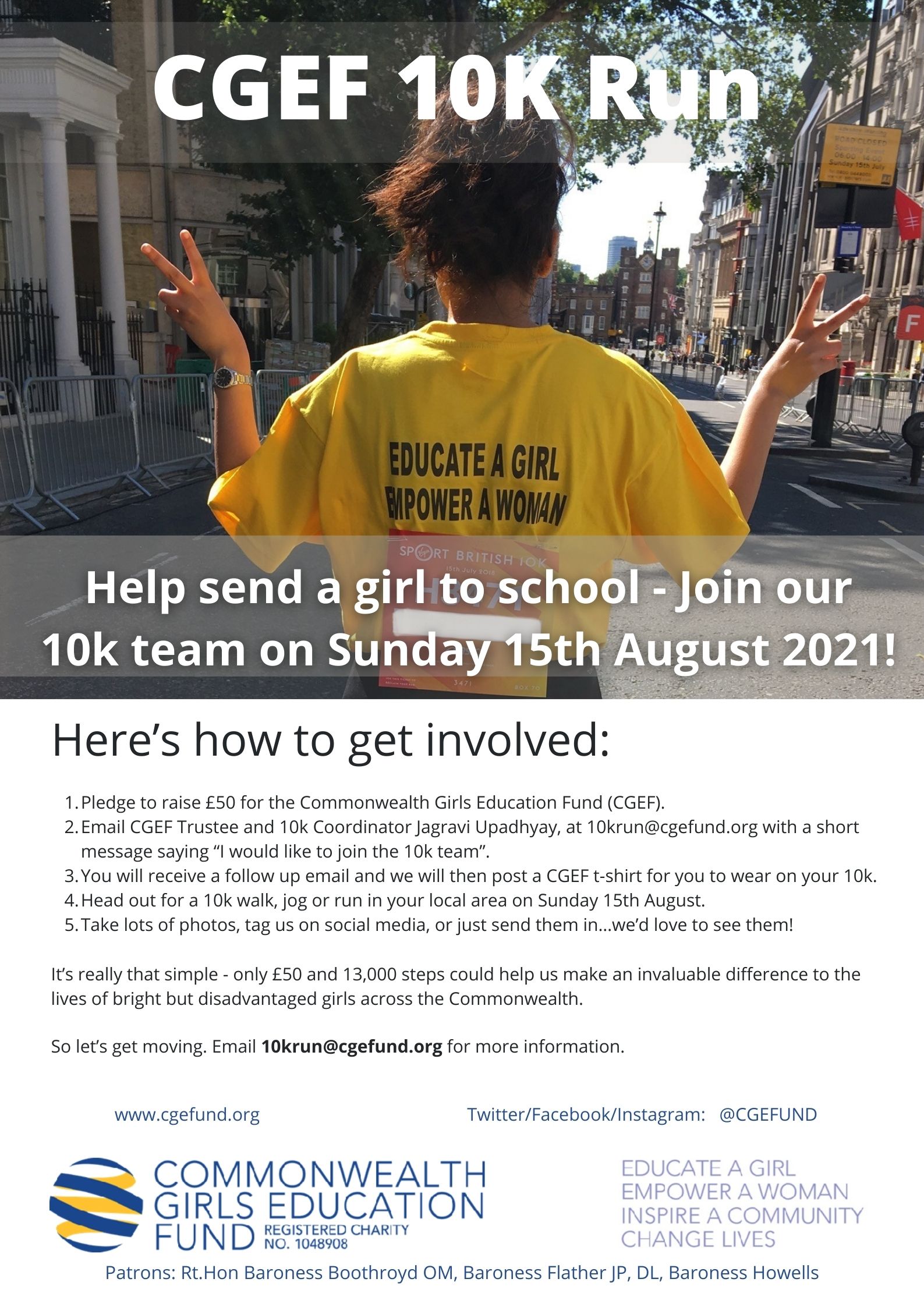 CCL presents the CGEF with a 20K donation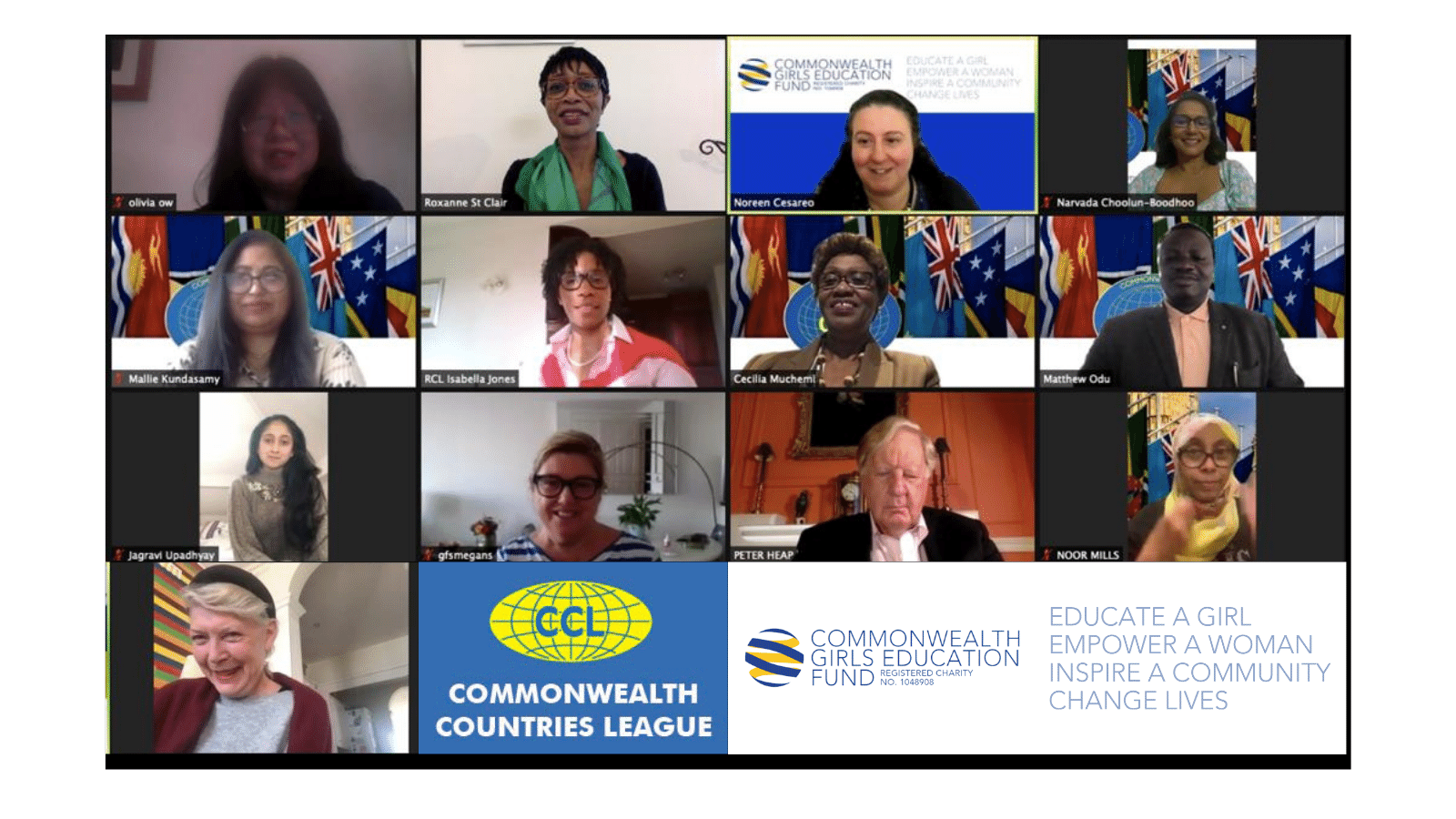 The Board of Trustees and the Executive Committe of the Commonwealth Countries League (CCL) presented CGEF Trustees with a generous donation of £20K in lieu of funds which would have been raised at the Annual Commonwealth Fair. The fair is organised by the CCL and typically held in the month of November at the Kensington Town Hall in London, UK.
Chairwoman Cecilia Muchemi presented the cheque to the CGEF Trustees during March - recognised internationally as the women's month - and in celebration of the International Women's Day and Commonwealth Day, which were both held on the same day this year.
Chair of the Trustees Sir Peter Heap represented the CCL Board of Trustees and said that they are still committed to supporting the CGEF cause in line with their values and mission.