General
General news from the CGEF
CCLEF Ambassador and CCL Alumna Ladi Dariya presented to HM The Queen
CCLEF Ambassador and CCL Alumna Ladi Dariya was recently presented to HM The Queen during a reception for Youth, Education and the Commonwealth held at Buckingham Palace.
The event, which had musical performances by the Commonwealth Youth Orchestra, was also attended by other members of the royal family including HRH Prince Philip, Duke of Edinburgh and HRH Princess Beatrice of York.

Representing the CCLEF work in girls' education around the Commonwealth, Ladi joined other professionals in the field of education during this colour and vibrant event. Ladi, who is the founder of the 'Thousand Schools for a Thousand Girls' Initiative, was recognised for her personal efforts in the promotion of gender equality. Coming from a very humble background and witnessing the gender gap in education in many Commonwealth countries, she has made championing the cause of girls and women her life's work.
Commenting on the experience, Ladi said that it felt quite surreal to drink royal champagne, eat dainty canapés and chat with royalty and select captains of education from across the Commonwealth. The CCLEF is proud of what Ladi has achieved. Currently Director of Communications for Madrinha Trust - a funding and mentoring trust – she is a CCL Alumna who works hard to enable other girls from disadvantaged backgrounds to achieve their potential.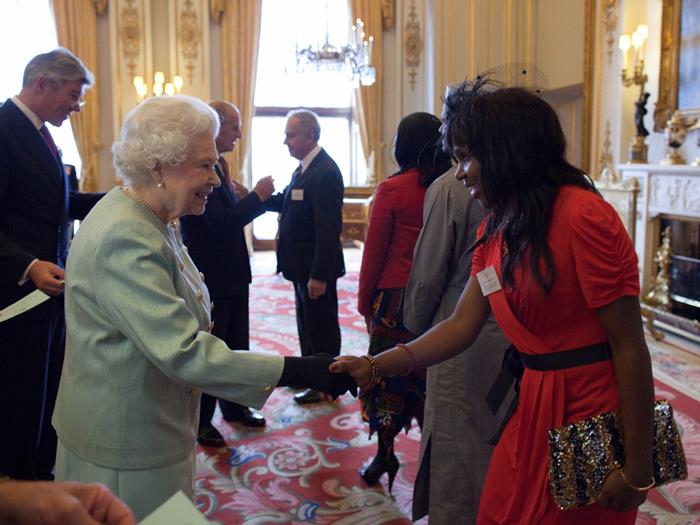 CCLEF Ambassador and CCL Alumna presented to HM The Queen at a reception for Youth, Education and the Commonwealth
Holiday Inn opts IN to Education
From Autumn 2013, staff at the Holiday Inn in Kingston are inviting their staying guests to 'opt in' to helping bright girls in the Commonwealth gain an education.
As Mr Gagan Sharma, General Manager, said, " At the Holiday Inn London – Kingston South, we are committed to supporting our local community and charitable causes close to our hearts. The hotel is pleased to partner with the CCLEF, an International Charity that makes a real impact in some of the most impoverished areas of the world. With the support of our guests we want to make an even bigger difference to young, gifted women living in poverty in the Commonwealth."
And on behalf of the girls who will benefit from this campaign, the CCLEF says a BIG THANK YOU to everyone at the Holiday Inn Kingston.
Holiday Inn London – Kingston South Portsmouth Road, Surbiton, Surrey KT6 5QQ
Educating Girls - Why?
The Case for Educating Girls
The need to improve access to secondary education for girls remains an important issue in the 21st century. The population trends, education gaps and the ripple effect of educating girls indicate the importance and benefits of educating girls, especially through secondary school.
Population trends: Today, more than 600 million girls live in the developing world. More than one-quarter of the population in Asia, the Caribbean and sub-Saharan Africa are girls. The population of young women aged 10 to 24 is expected to increase by 2020.
Educational Gaps: Approximately one-quarter of girls (over 70 million) in developing countries are not in school.
Ripple Effect of educating girls: Research in developing countries shows a consistent relationship between better infant and child health and higher levels of schooling among mothers. Where education levels are higher among women, family size is smaller and women's health and economic status are stronger; and in settings where education is more gender equitable, economic growth is more robust.
Child Marriage and Early Childbirth: One out of seven girls in developing countries marries before age 15; 38 percent marry before age 18. In addition, one-quarter to one-half of girls in developing countries become mothers before age 18; 14 million girls aged 15 to 19 give birth in developing countries each year and most of them have complications during child-birth. With regards to health, research shows that 75 percent of 15- to 24-year-olds living with HIV in Africa are female. This figure has risen from 62 percent in 2001.
References
International Center for Research on Women, Girls' Education, Empowerment and Transitions to adulthood: The case for a shared agenda, (2012) www.icrw.org/
Population Reference Bureau, DataFinder database, http://www.prb.org/datafinder.aspx; accessed January 20, 2011
Population Council, "Transitions to Adulthood: Child Marriage/Married Adolescents," www.popcouncil.org/ta/mar.html; updated May 13, 2011
Nomfundo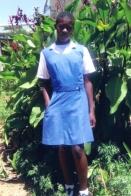 Good News from Swaziland
From a young girl hoping for an education, to a lovely woman with a bright future...
Nomfundo's former head teacher reports, "You will be delighted to know that Nomfundo has been an absolute star! She was our Head Girl in 2011 and finished the year with a Distinction. She was partially responsible for our school being listed in the top twenty schools of the country!
She personally came up and greeted me at the local Steers' Steak House where she was waitressing last year and told me she was waiting to be accepted into 'Varsity which started in September 2012. I have since heard that she was accepted and is receiving a Government subsidy to study at our University. I am not sure which course she is doing, but it sounded as though it was along bio-technical lines.
She is a lovely young lady - quite tall and graceful with a delightful personality - and I am sure she will go far. What a blessing that she was able to finish her schooling."