News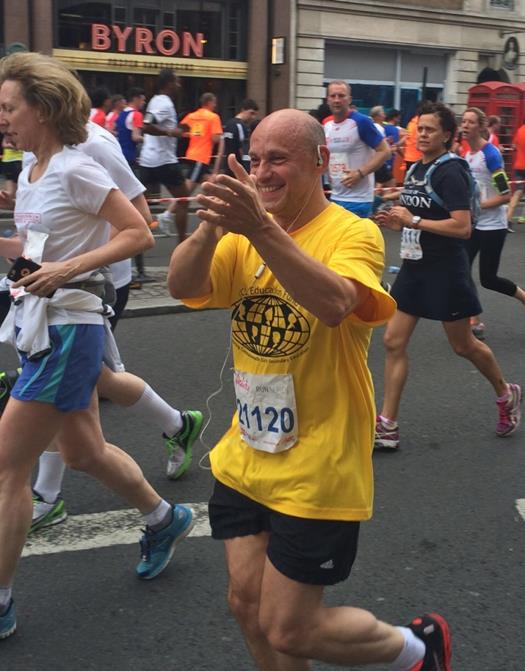 Congratulations to supporter Gary Burns, who has participated in the British 10K London Run as a CCLEF runner four times in the last eight years, and was placed in the 2015 Just Giving's top 1% of national fundraisers!
Join us this year - Contact Trustee and Run Co-ordinator Jagravi Upadhyay at for more information on becoming part of our team for the 2016 British 10K London Run which takes place in July 2016.

28 runners - £24,000 raised
News from the Emusoi Centre,Tanzania, where the CGEF (formerly CCLEF) has sponsored a number of girls.
The following picture shows six new graduates, along with their letters of thanks. They are all waiting for their exam results which will be announced mid-February 2016.
One of the girls, Nasiyanda, has asked to stay at Emusoi to await the results because she fears being hassled at home to marry. These girls receive a lot of pressure to get married because their families think they have finished school. Hopefully, all these girls will be able to go on to advanced level studies.
A wonderful success story so far, and a testament to the hard work of everyone at the Emusoi Centre. Congratulations to our girls!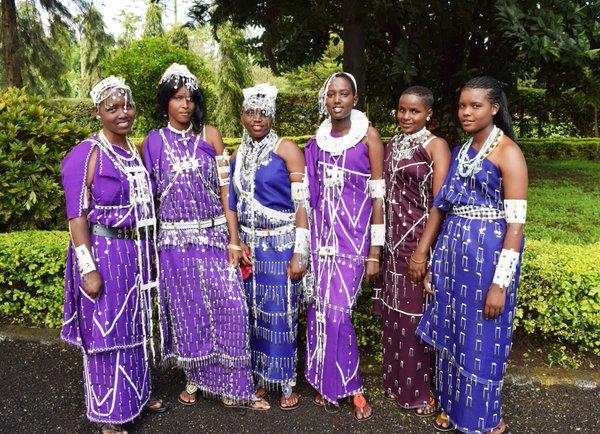 On 2 December 2015, the CCL Commonwealth Fair organisers welcomed guests to their traditional thank you party at Marlborough House in London.
This year's fair was another successful event and CCL President, Mrs Nalini Paranavitane presented our Hon Treasurer Ms Judith Fisher with a cheque from the CCL to the Education Fund for £8,000, which included the proceeds of the raffle and the first stage payment from the 2015 CCL Commonwealth Fair profits.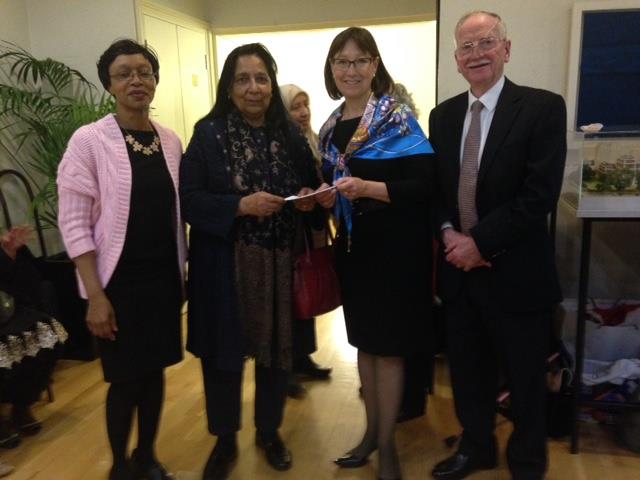 From left: CCL Hon.Treasurer, Mrs. Roxanne St Clair, CCL President Mrs Nalini Paranavitane, CGEF (formerly CCLEF) Hon Treasurer Ms Judith Fisher and Mr Eric Peake.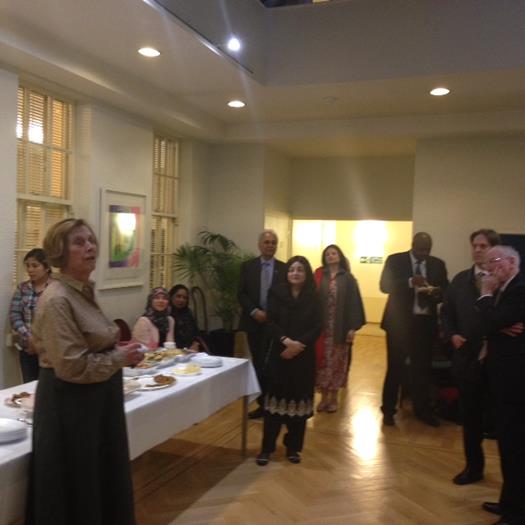 CGEF Trustee and President, and CCL Patron Ms Louisa Service OBE addressing the guests present.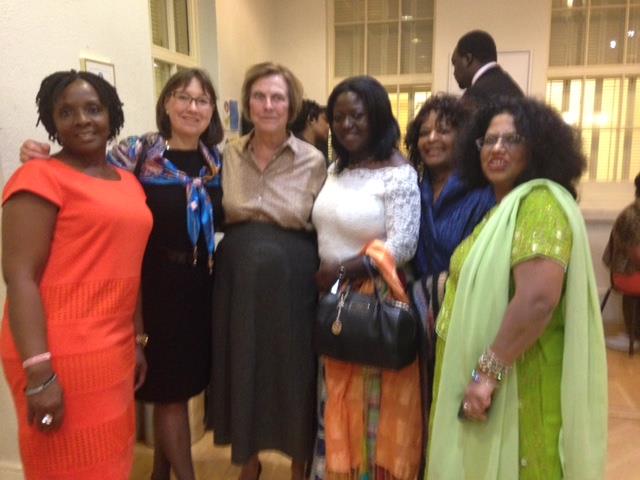 CCL guests with CGEF Hon Treasurer Ms Judith Fisher (second from left) and CGEF Trustee and President, and CCL Patron Ms Louisa Service OBE (centre).
Featured in Asian News: Asia has become the largest recipient of sponsorship from the UK based charity Commonwealth Girls Education Fund (CGEF), formerly the Commonwealth Countries League Education Fund (CCLEF). The charity provides funding for the secondary education of capable girls who for financial reasons would otherwise be unable to attend school.
CGEF is entirely funded by donations and fund raising activities, and employs just one part time member of staff, who supports the efforts of the voluntary Board of Trustees. The charity has been historically well supported by members of both the business and social Asian communities. Most recently they were awarded a grant of £1000 by the Women's India Association.
The charity also benefits from outstanding voluntary efforts from Asian individuals based in the UK. Their London 10k run campaign was led this year by 22 year old law student Jagravi Upadhyay. Under her superb voluntary leadership, the run raised a record amount for the charity, she was also a member of the organisational team for "Splendours of the Commonwealth" a glittering fundraising evening held in September at The May Fair hotel, London.
Jagravi was recently elected to the CGEF Board of Trustees, becoming their youngest Asian trustee in many years.
CGEF aims to raise enough funds to support around 450 girls. The cost of sponsoring this number of girls for five years of secondary education is over £500,000.
India currently benefits from having the largest number of CGEF sponsored girls in the Commonwealth, including a small group of very capable blind girls. The charity aims to continue to increase its numbers in India, Pakistan, Bangladesh and Sri Lanka.
You can find out more about the work of the Commonwealth Girls Education Fund, or make a donation, by browsing through our website or by emailing
https://www.asian-voice.com/Opinion/CCLEF-now-sponsors-over-100-Asian-girls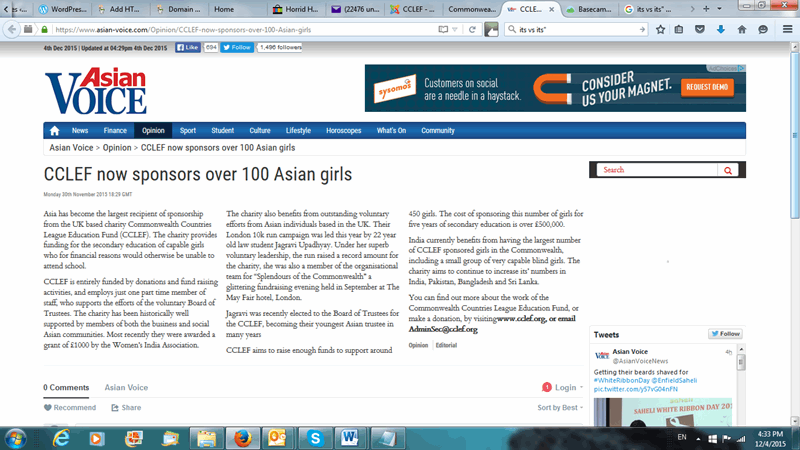 Penny O'Regan, 2015 CCLEF Chairperson and Judith Fisher, CCLEF Hon Treasurer met with the Ghanaian High Commission to discuss the CCLEF's sponsorships for girls' education in Ghana. During their meeting, the Ghana High Commission (HC) informed CCLEF that their government has committed to funding secondary education fees, excluding boarding fees, for every child in Ghana from September 2015.
In recent reports, the UN has stated that Ghana is making "strong progress" in education. This approach was confirmed as CCLEF heard that tertiary education is more accessible to bright students in Ghana with the availability of loans and other sources. Ghana is also appearing to be making good progress in getting women into government roles.
The HC also discussed the ongoing CCLEF contribution to girls' education in Ghana and showed that in fact, schools that have a connection with CCLEF are spread throughout Ghana and can be found from Ankara to the Eastern areas. The news of the Ghanaian government's committment to funding secondary education fees was welcomed and CCLEF reaffirmed its committment to helping girls in Ghana. CCLEF understands that the girls' personal needs extend beyond just paying the fees and the Trustees are committed to helping them with whatever their needs are.